Bearingproducts
You the current location > Bearingproducts > Tapered roller bearings
33200 Series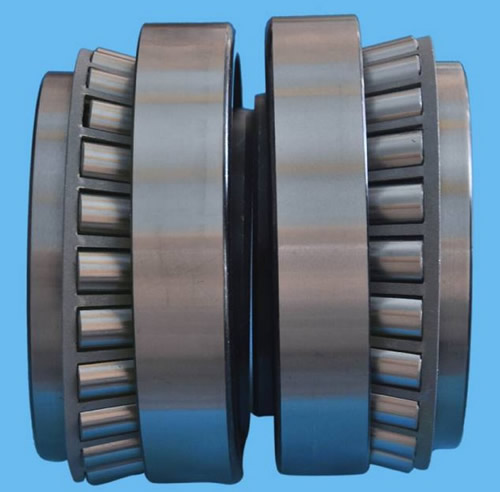 Tapered roller bearings
are separable and have the following components: outer ring, inner ring, and roller assembly (containing the rollers and a cage). The non-separable inner ring and roller assembly is called the cone, and the outer ring is called the cup. Internal clearance is established during mounting by the axial position of the cone relative to the cup.
Metric tapered roller bearings
follow the designation system defined by ISO 355.
In many applications

tapered roller bearings

are used in back-to-back pairs so that axial forces can be supported equally in either direction.
Pairs of
tapered roller bearings
are used in car and vehicle wheel bearings where they must cope simultaneously with large vertical (radial) and horizontal (axial) forces. Applications for
tapered roller bearings
are commonly used for moderate speed, heavy duty applications where durability is required. Common real world applications are in agriculture, construction and mining equipment, axle systems, gear box, engine motors and reducers.
Boundary dimensions

Basic load rating(kN)

Limiting speed

Mass

mm

Dynamic

Static

rpm

Kg

d

D

T

B

C

Rmin

rmin

Cr

Cor

Grease

Oil

≈

33205

25

52

22

22

18

1

1

47.3

56

6700

9000

0.23

33206

30

62

25

25

19.5

1

1

64.4

76.5

5600

7500

0.37

33207

35

72

28

28

22

1.5

1.5

84.2

106

4800

6300

0.522

33208

40

80

32

32

25

1.5

1.5

105

132

4300

5600

0.535

33209

45

85

32

32

24.5

1.5

1.5

108

143

4000

5300

0.82

33210

50

90

32

32

24.5

1.5

1.5

114

160

3800

5000

0.9

33211

55

100

35

35

27

2

1.5

138

190

3400

4500

1.2

33212

60

110

38

38

29

2

1.5

168

250

3000

4000

1.6

33213

65

120

41

41

32

2

1.5

194

270

2800

3800

2.05

33214

70

125

41

41

32

2

1.5

201

285

2600

3600

2.1

33215

75

130

41

41

31

2

1.5

209

300

2400

3400

2.25

33216

80

140

46

46

35

2.5

2

251

375

2200

3200

2.9

33217

85

150

49

49

37

2.5

2

286

430

2000

3000

3.7

33220

100

180

63

63

48

3

2.5

429

655

1700

2400

6.78
33205/3007205
UNITEC
33211/3007211
UBC
33217/3007217
SGR
33224/3007224
ZOV
33206/3007206
JAF
33212/3007212
TWB
33218/3007218
GWB
33226/3007226
DBZ
33207/3007207
BOWER
33213/3007213
ASAHI
33219/3007219
CMS
33228/3007228
FAFNIR
33208/3007208
EASE
33214/3007214
KSM
33220/
RELEVANT Tapered roller bearings