Bearingproducts
You the current location > Bearingproducts > Split bearings
412740,42740,SDNN650,02B110M,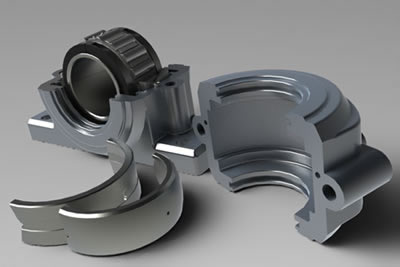 Split bearings
FAG has developed ready-to-mount split bearing units specifically designed for use on the drive rollers of the cooling zone of continuous casting plant. The special housings are of cast steel and are water cooled. The housing top with its integral cooling chamber has a low sectional height because the standard design incorporates only one outer ring half which is positioned in the base of the housing. The spherical roller bearing of the unit normally consists of two inner ring halves with lubrication groove and holes, four clamping ring and cage halves, one outer ring half and two lamellar sealing rings with one split. The inner ring division is at an angle to the bearing axis.
Further information on split bearing units for continuous casting plant will be sent on request.
RELEVANT Split bearings